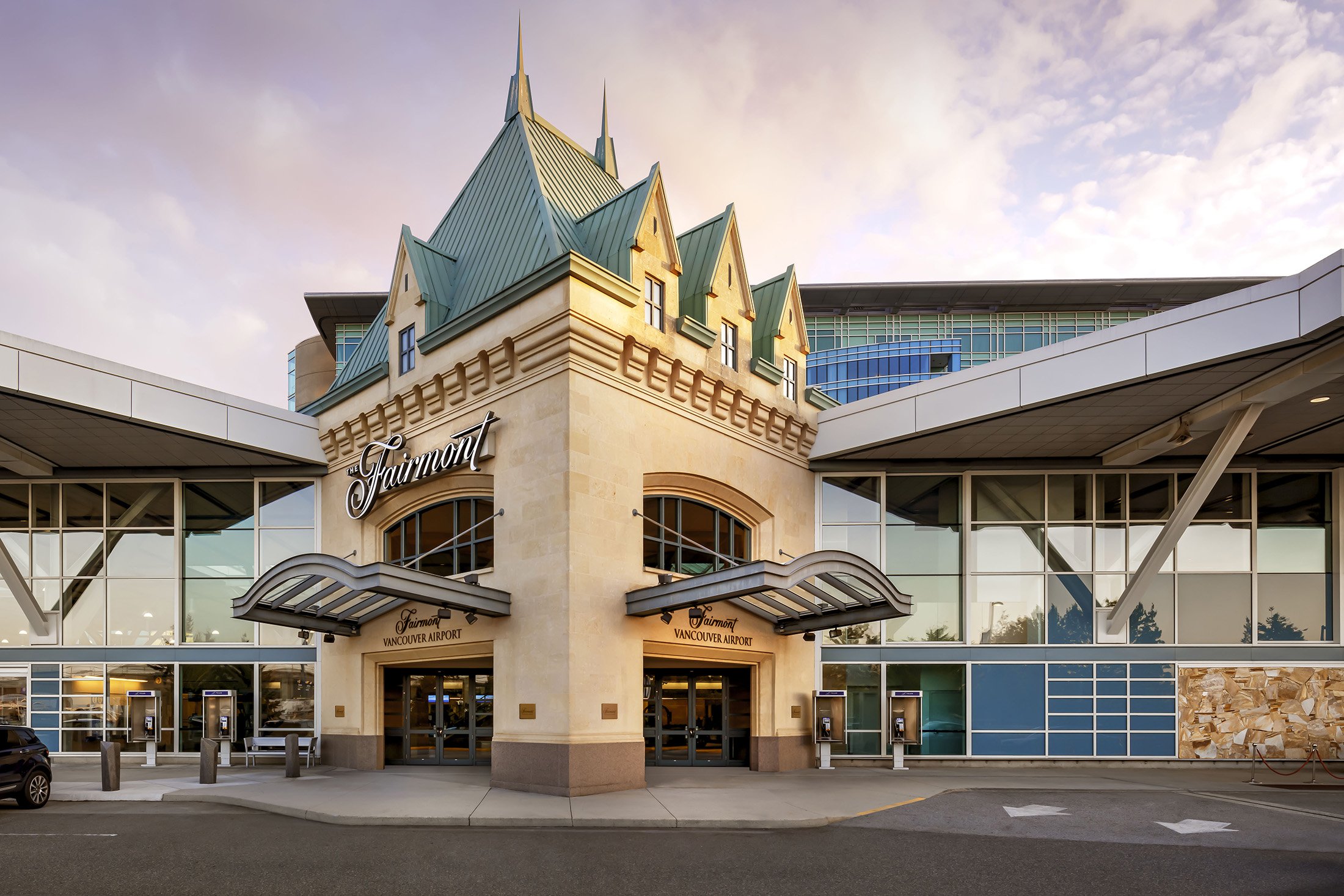 Welcome to

Fairmont Vancouver Airport
Wake up steps from your gate. Conveniently located within Vancouver International Airport (YVR), Fairmont Vancouver Airport is the ultimate retreat for jet setters. Surrounded by luxurious interiors and stunning mountain views, find time to unwind with health and wellness offerings, indulge in seasonally inspired local cuisine and watch live music—all without leaving the airport.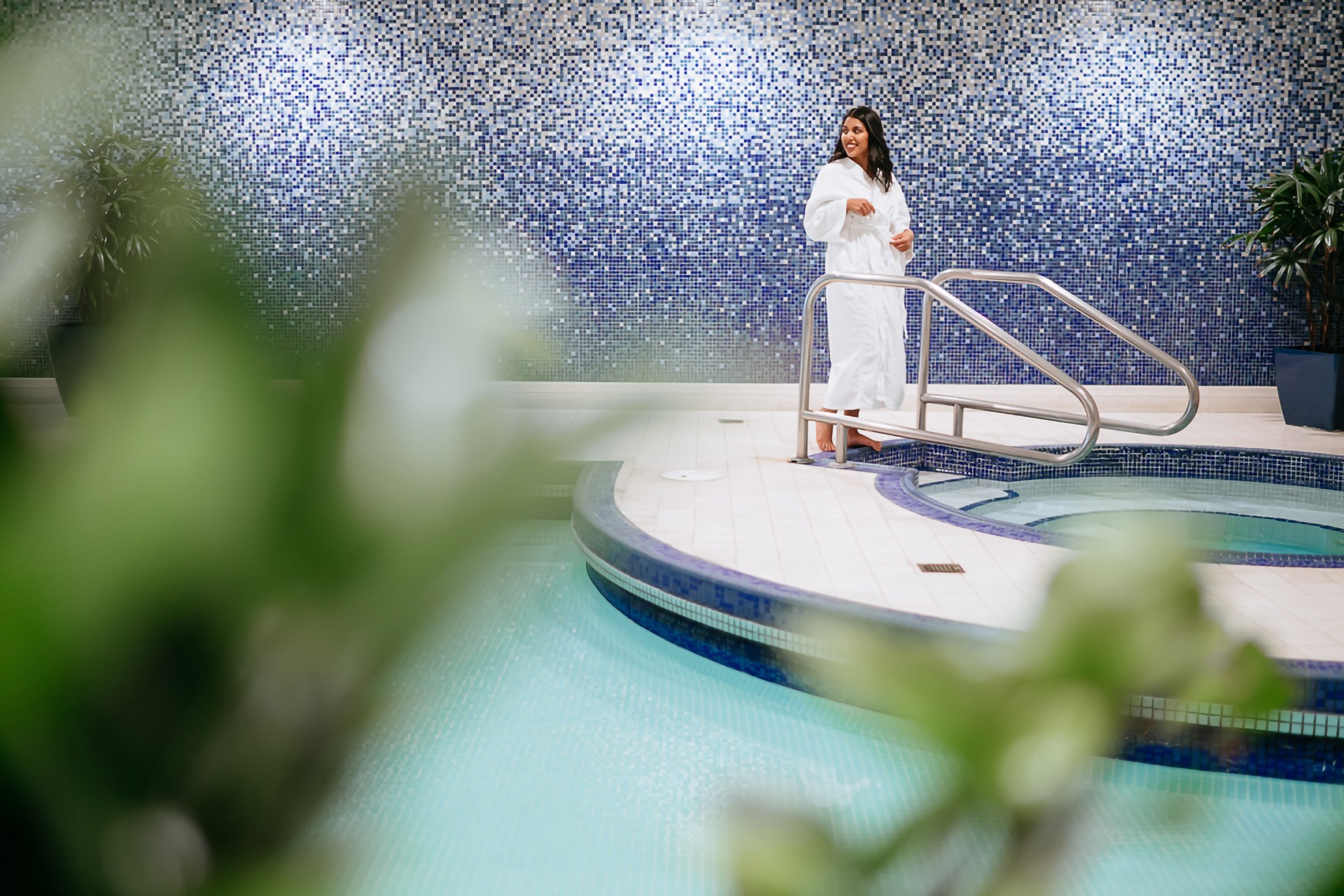 Refresh, reset and jet set with our holistic wellness offering, including a full-service spa, health club, pool and in-room wellness and fitness programs.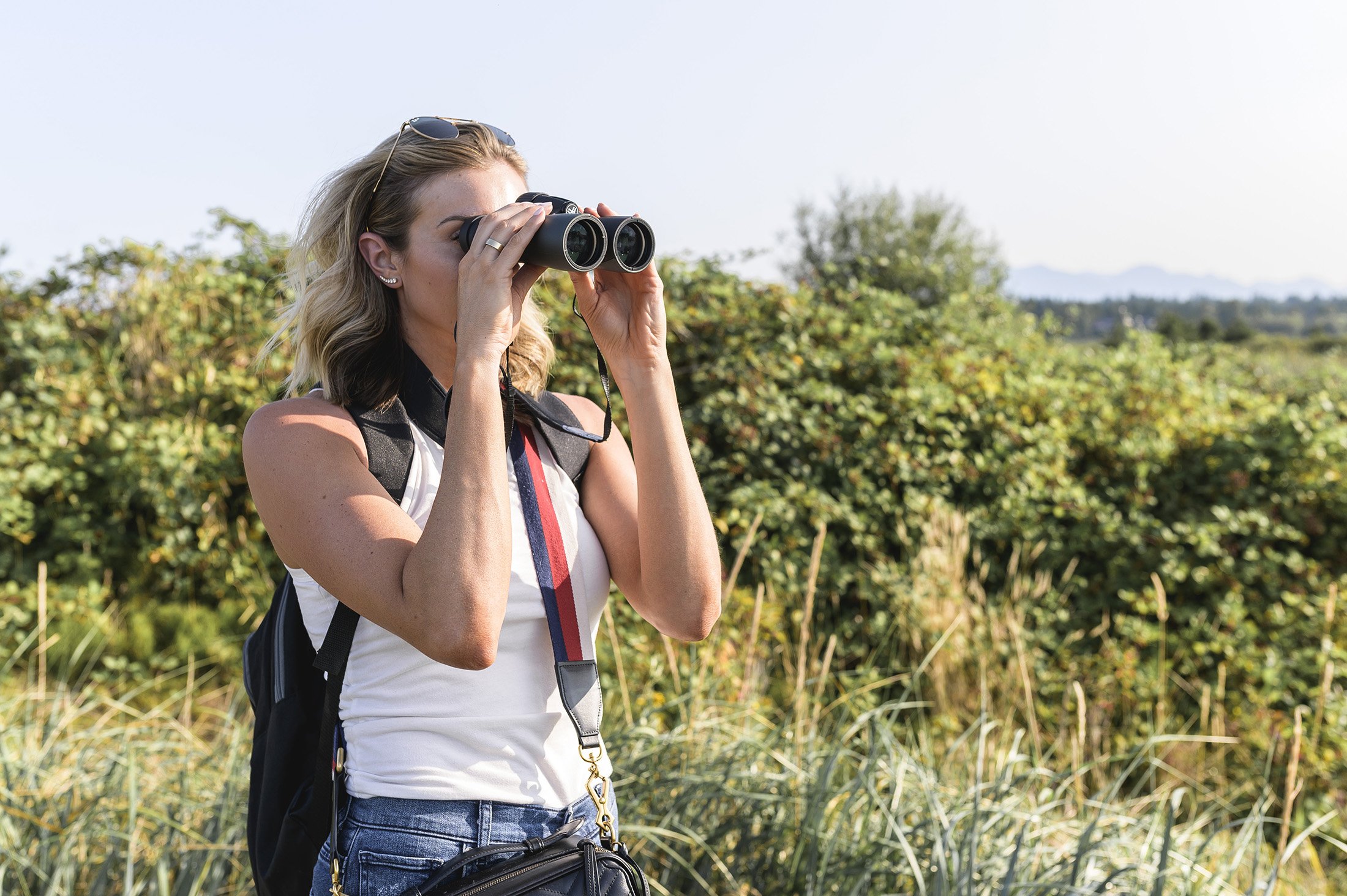 Head to Vancouver's buzzing downtown, iconic parks, and spectacular beaches, or shop, bike and birdwatch around Richmond.
Explore the World of

Fairmont Vancouver Airport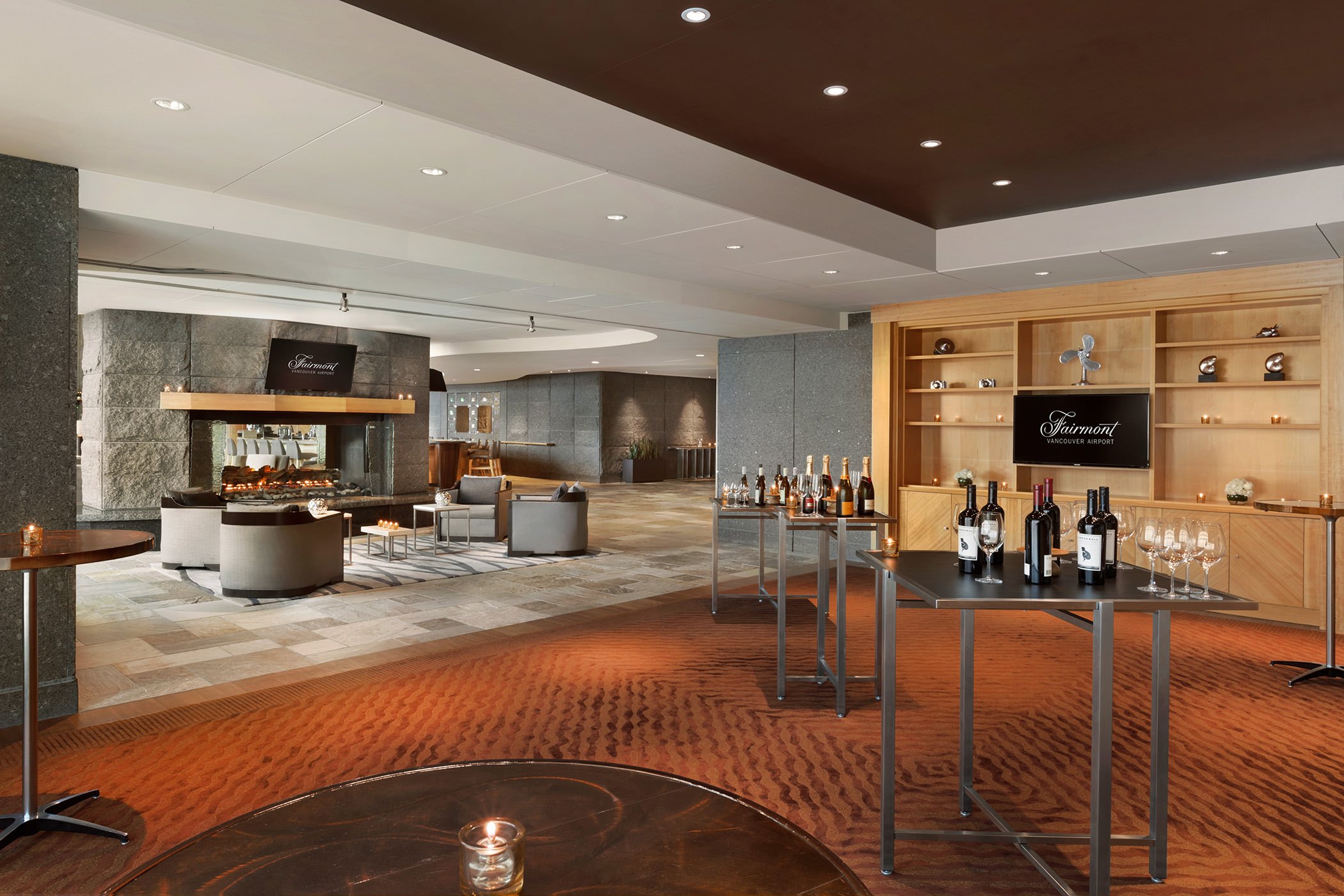 Gather
Gather where expansive views of YVR's active runways and the North Shore mountains combine with state-of-the-art meeting rooms and event technology.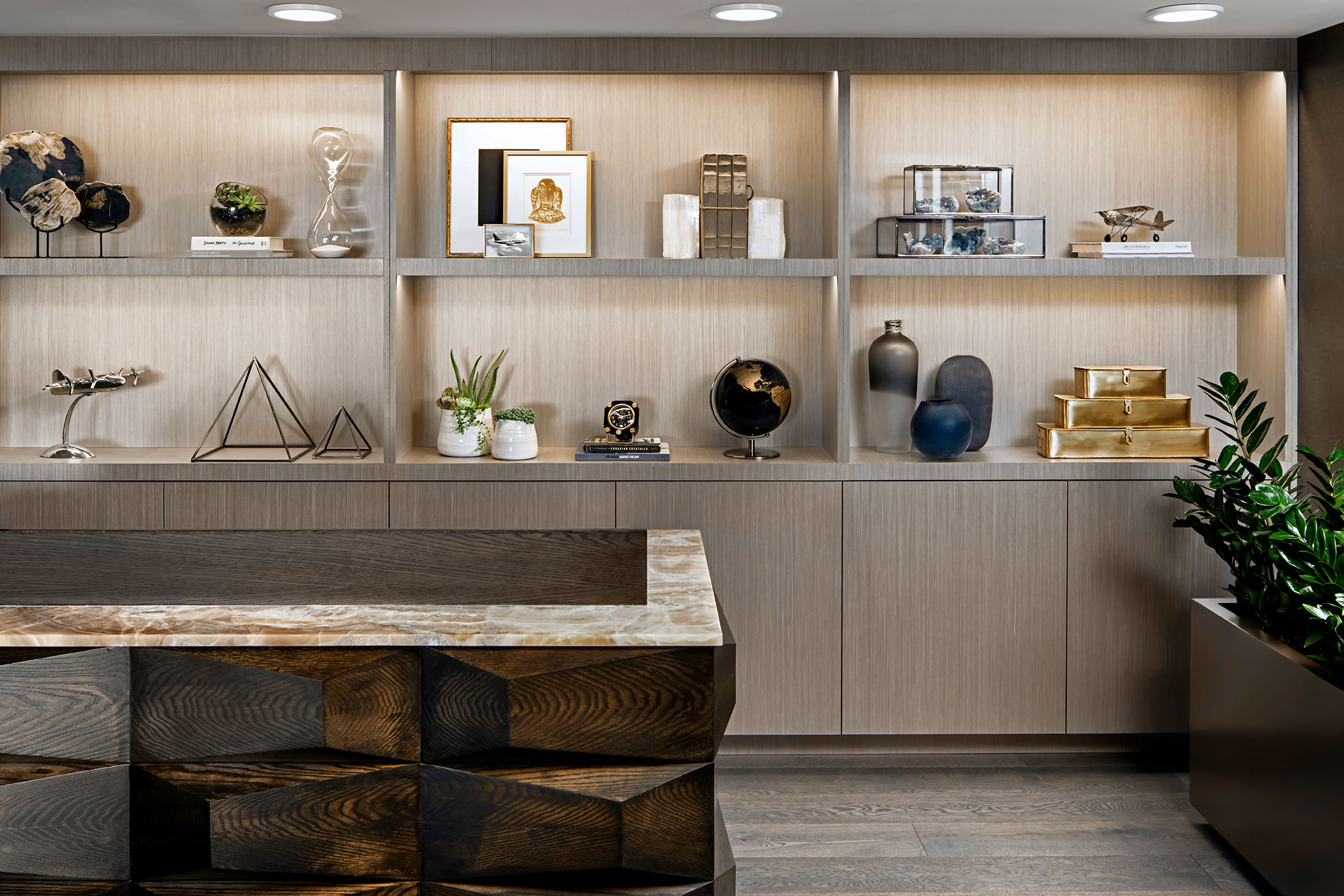 Loyalty Program
Discover rewards, unique benefits, and exceptional events with ALL – Accor Live Limitless. Stay, work and earn points to unlock exclusive benefits as a member.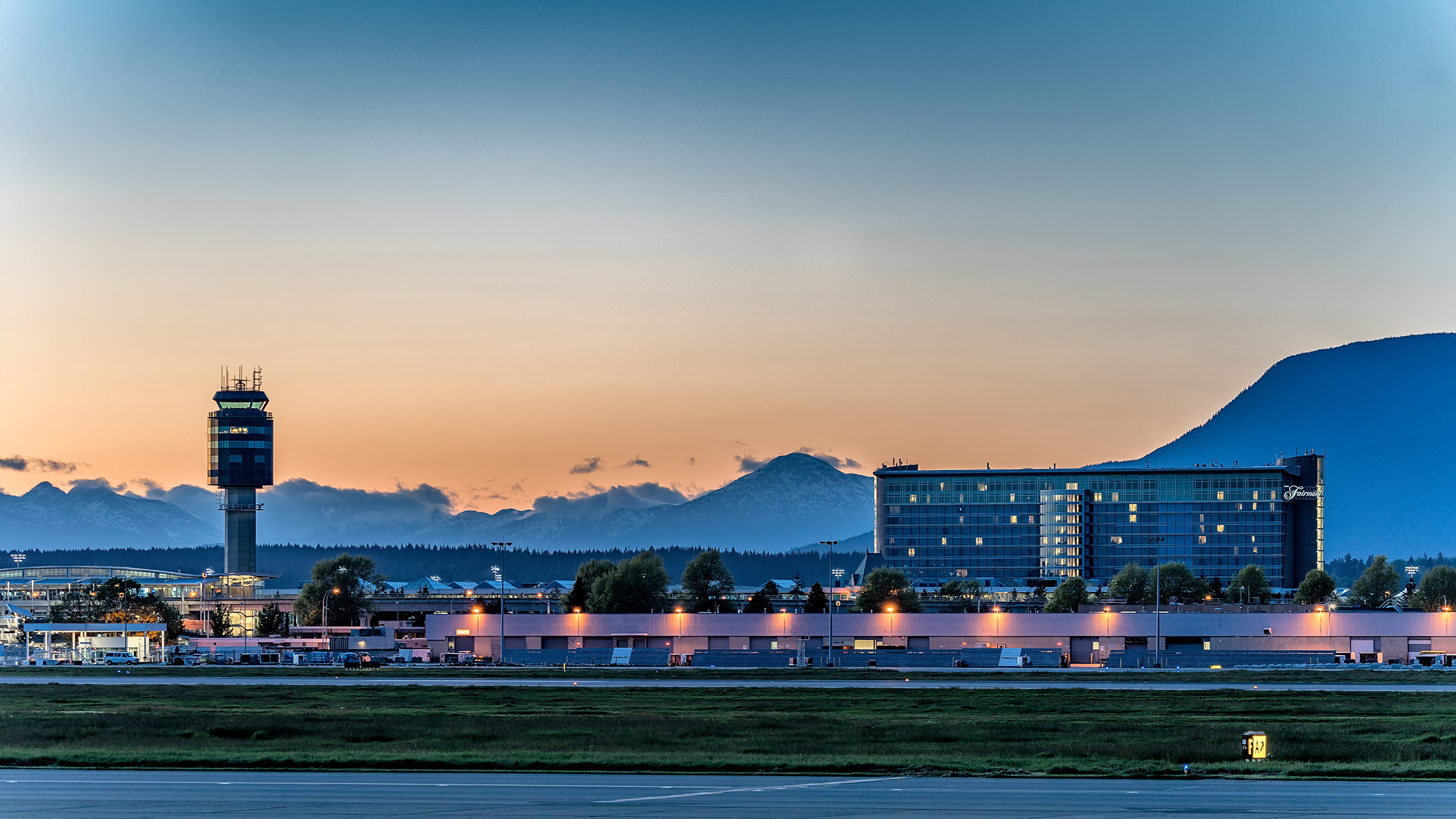 Fairmont Blog
Make this layover one to remember. Explore our award-winning amenities and facilities, uncover the endless list of activities in and around YVR, and discover our favourite ways to beat jet lag with elevated services tailored to your needs.
Fairmont Vancouver Airport
Fairmont Vancouver Airport, your Gateway to Luxury, is situated within Vancouver International Airport, offering seamless travel and refined elegance. Enjoy our esteemed property while embracing the captivating beauty of the Pacific Northwest.
RBC Royal Bank
Walking Distance: 4 minutes
Pharmasave
Walking Distance: 4 minutes
ICE Currency Exchange
Walking Distance: 2 minutes
CDS Baggage
Walking Distance: 5 minutes
Canada Post
Walking Distance: 4 minutes
Airport Fabricare Cleaners
Walking Distance: 4 minutes
Whistler Blackcomb
A world class resort for all seasons, Whistler Blackcomb has one of the longest ski and ride seasons in North America, as well as lift accessed mountain biking and alpine hiking in the spring, summer and fall.
Grouse Mountain
As Vancouver's most popular attraction, Grouse Mountain is the only truly four-season destination in the lower mainland and features a wildlife refuge, vast selection of dining options, thrilling outdoor adventure, summer activities galore, the best in local snow sports…and much more.
Wreck Beach
This 7.8-kilometre (4.8-mile) long, secluded beach is Canada's first and largest, legal, clothing-optional beach. Wreck Beach located at the western tip of Vancouver, adjacent to the University of British Columbia campus, down a long flight of steep stairs.
Spanish Banks
Spanish Banks is famous for its low tides which make for warmer swim temperatures on a rising tide and as a popular spot to watch the sunset. Dogs also love this park with a large area of beach set aside for your four-legged friends.
Kitsilano Beach
One of Vancouver's most popular beaches! The park next to the beach is located between Arbutus and Balsam Street and features a bank of tennis courts and a salt water outdoor heated swimming pool open each summer.
False Creek Ferries
Take a cruise through the scenic urban waters of False Creek, with False Creek's original ferry company. Offering friendly service and comfortable vessels, and the most routes and destinations in the area, False Creek Ferries is Vancouver's favourite little ferry company.
Nitobe Memorial Garden
Nitobe Garden is considered to be the one of the most authentic Japanese gardens in North America and among the top five Japanese gardens outside of Japan. Nitobe Garden includes a rare authentic Tea Garden with a ceremonial Tea House.
Dr. Sun Yat-Sen Classical Chinese Garden
Named the World's Top City Garden by National Geographic, Dr. Sun Yat-Sen Classical Chinese Garden is the first lassical Chinese Garden in all of Canada. The jade green pond, koi fish, collection of 150-year old miniature trees and tai hu rock imported from China, are some of the delights the Garden offers.
UBC Botanical Garden
Explore Canada's oldest university botanical garden and immerse yourself in the world of wild-collected plants.
Bloedel Conservatory
Discover over 100 exotic birds and over 500 kinds of tropical plants inside the dome and then explore the fountains, gardens and sculptures around Queen Elizabeth Park. Easily accessed on the Canada Line from YVR.
VanDusen Botanical Garden
Explore VanDusen Botanical Garden, an inspiring 55 acre outdoor oasis with over 7,500 plant species and varieties. Spot and photograph local wildlife, enjoy the hedge maze with the kids and relax in a serene setting located in the heart of Vancouver.
Stanley Park
Ideally situated on a peninsula at the northwestern edge of downtown Vancouver, Stanley Park offers beaches, miles of well-maintained paved and dirt trails, and an array of can't-miss kid-friendly spots. It is recognized as one of the greatest urban parks in the world.
Granville Island
The Granville Island Public Market acts as a hub of activity, but it's also one of the city's most important cultural districts with theatres, artisan workshops and craft studios.
Yaohan Centre
Yaohan Centre is one of the earliest Asian Malls developed in Richmond, B.C. and continues to be a popular retail destination where you can explore over 80 stores including a large supermarket that offers a wide range of Japanese and Chinese products.
Parker Place Mall
Parker Place Mall presents a unique collection of authentic Asian lifestyle shops and services, including a food course that echos Asia's steam-shrouded hawker markets with mom-and-pop counters serving cuisines from Taiwan to Shanhai and from Vietnam to Hong Kong.
Aberdeen Centre
Aberdeen Centre's unique fusion of East meets West shopping, dining, entertainment and service amenities include; nine full-service restaurants, an award-winning 800-seat food court and a variety of Arts & Cultural performances.
CF Richmond Centre
With over 200 stores and services, Richmond Centre is one of the Lower Mainland's best shopping experiences. Visit stores like Hugo Boss, Aritzia, Sephora, Michael Kors, Topshop and The Bay.
Dumpling Trail
The Dumpling Trail is a collection of 15 restaurants serving up some of the most delectable dumplings this side of the Pacific.
McArthur Glen Designer Outlet Mall
Take the Canada Line two stops away to the McArthur Glen outlet mall for high street fashion brands.
Canada Line Station
Canada Line travels between Downtown Vancouver, the Vancouver International Airport (YVR) and Richmond.
Vancouver
A buzzing Downtown, iconic parks and Pacific Ocean beaches lined with mountain views – a recipe for the ideal holiday destination.
Richmond
Richmond is a thriving city and home to Vancouver International Airport (YVR) where culture and character converge in a stunning setting.
Loading map ...
Exclusive Offers and Updates from Fairmont Vancouver Airport